Hotel Akre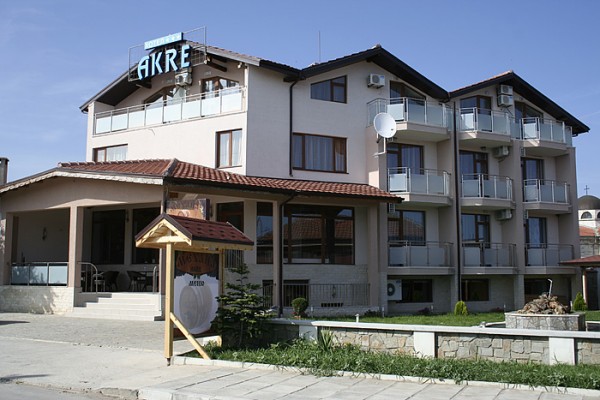 Hotel Akre is situated near the centre of village of Balgarevo (between town of Kavarna and cape Kaliakra).

It has at its disposal
20

spacious rooms distributed on 3 floors. From second and third floor is opened out pleasant view towards the greenery of the village and the sea.
Still with the entering in the lobby of the hotel, the guests feel the pleasant atmosphere and the heartiness of the hotel personnel. The special cares, spared even to the smallest details are a guarantee for your pleasant and beneficial stay. Elegant style and comfort supplement the feeling for a place, at which is nice to stay.
For increasing of the efficiency and the comfort of its guests hotel Akre offers in all hotel rooms:


• an air conditioner;
• a television set;
• a refrigerator;
• wireless internet.
To the hotel there is a lobby bar and a summer garden with a fountain, which cools in the hot summer days. Hotel Akre has at its disposal a tavern, which is appropriate as for everyday consumption, as well as for family celebrations.

You may see the menu of the restaurant .

The hotel is a comfortable place for rest near the beaches of Kavarna and the locality of Bolata.
It gives quiet atmosphere and opportunities for eco and village tourism. Besides as a family hotel for vacations, hotel Akre may be used and as a starting point for tourist routes in the region.
The guests of hotel Akre may enjoy unique mussel and fish dishes from the opulent menu of Dalboka mussel restaurant.
Dalboka mussel restaurant is situated in the beautiful Kaliakra bay, where is situated and the mussel farm. Here are cultivated ecologically clean Black Sea mussels. The restaurant offers great variety of mussel dishes and all kinds of seafood. Except for the mussel specialties the menu includes selected fish and fish delicacies, fresh salads, appetizers, as well as dishes from pork and chicken meat, created with unique taste.